Good Morning!
Thanks for being here... and for choosing to #ReadThisFIRST. As you get your day started, realize that it SNOWED in HAWAII... on the island of MAUI... and that doesn't happen every day... so take a look at the reporting of one of our former colleagues, now living and working in Hawaii, and realize that no matter what the weather where you are... it could always be more ridiculous.
IT DOES NOT SNOW IN HAWAII?!?! Well... yeah, it seems like now it does.
Let's get into this morning's copy-and-paste roundup...
TODAY IS:
Extraterrestrial Culture Day
Lost Penny Day
Plum Pudding Day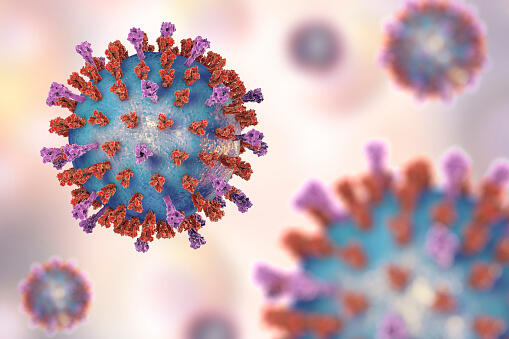 @gettyimages
THE MEASLES: Did you know there's sort of a situation brewing???
The measles appears to be making a comeback in 2019. Although we're not even halfway through February, the Centers for Disease Control and Prevention has already confirmed 101 cases of measles in 10 states this year, and that data may not include numbers from recent state-based reports.
Of course, most if not all of these cases could have been prevented. In most states, the disease has been spreading among those who haven't been vaccinated or haven't had the recommended second dose. When both doses are given, the vaccine is 97 percent effective.
One area hit particularly hard from the outbreak is Washington state, where 55 cases have been reported as of Thursday and a public health emergency was declared in January.
In most of these cases, the victims were children under 10, whose parents decided not to vaccinate them. (NBC News)
When was the last time you upgraded your iPhone? A new survey by found that one out of every three iPhone owners in the U.S. is not upgrading to a new phone because they are either too expensive or don't have enough new features to make it worth upgrading.
Happy couples …Is there a formula for a happy relationship? According to a new survey, happy couples have these things in common:
a healthy sex life
an equal balance of economic power
have two kids
each earn at least $75,000 a year
have a college degree
have similar political beliefs (MarketWatch)
What's the perfect Valentine's gift? It's different for everyone, but one thing's for sure, no one would be upset if they got a personalized Valentine's video call from a baby alpaca.JW Marriott El Convento Cusco in Cusco, Peru is offering alpaca grams featuring the hotel's baby alpaca mascot Panchita. By filling out a request form on LovePanchita.com you might be lucky enough to get a video call from the adorable alpaca. Unfortunately, the call recipients are all picked randomly because there has been such a huge demand. If you aren't lucky enough to receive the call – it may be time to book a vacation to Peru. Apparently Panchita visits the hotel every day to spend time with guests. (People)
No love for the day of love? A new report by the National Retail Federation found that since 2009 the number of adults actually celebrating Valentine's Day is in decline. Seems a lot of people are turned off by how commercialized the day has become. What's interesting, however, is the people who are celebrating, specifically Millennials, are spending more than ever before. There's no doubt that social media is influencing the trend, but on the other hand, spending money on the person you love is never a bad investment ... is it? (Refinery 29)
How about this for romance …? Waffle House is taking reservations for Valentine's Day. And, to set the mood, Waffle House will put out white tablecloths and dim the lights. And, there will be special menu items. Like … fancy hash browns? (USA Today)
STRIP CLUB OFFERING FREE ROOFTOP WEDDINGS FOR VALENTINE'S DAY
The Deja Vu strip club in Nashville, Tennessee, is making a special offer to couples out there for Valentine's Day, opening up the roof of the place for free weddings.
It's pretty much turning the club into one-stop shopping.
During the entire month of February, you can have your bachelor party downstairs with your friends -- and then just get up on the rooftop with your bride to tie the knot.
It's surprising nobody had thought of this brilliant idea earlier … (Whiskey Riff)
RICHER, OLDER MEN MORE LIKELY TO DRINK TO EXCESS
According to a British study, richer, older men are most likely to drink to excess.
Rich guys between the ages of 55 and 64 are twice as likely to knock back 14 drinks each week than anyone else. (The Guardian)
Germs... and not washing one's hands for over a DECADE!
Over the weekend, Fox News host Pete Hegseth revealed that he hasn't bothered to wash his hands in more than a decade. He said on air, "I inoculate myself. Germs are not a real thing. I can't see them; therefore, they're not real."
Later on, here-tweeted a post saying that we need to build up immunity instead of trying to ward off every last little thing. (USA Today)
HAPPY HAPPY JOY JOY GOOD NEWS TIME...
CABBIE RESCUES GRANNY FROM SCAM
Police in Boston are praising a cab driver for saving an elderly passenger from being the victim of an expensive scam.
Cops identified the good Samaritan as Richard Spencer. They say he picked up an 87-year-old woman who asked to be taken to Walmart and said that her grandson had called and said he was in trouble and needed her to buy him gift cards.
Spencer was immediately suspicious and told her it sounded like a scam. He said, "Excuse me, ma'am, but that is not your grandson." He explained that it sounded like someone was trying to take advantage of her.
Spencer told her that instead of going to Walmart, he was going to take her to the police station. Once she got there, she told police that someone posing as her grandson called and said he needed gift cards so that he wouldn't go to jail.
He told her to buy the cards, go home and call him back with the pin numbers. The woman told police she had already done that earlier in the day to the tune of $4,000.
Police say that while the woman is out a lot of money, Spencer protected her from losing even more money. They praised him in a Facebook post saying, "Thank you Mr. Spencer for caring. You could have chosen to remain silent and ignore the signs. But you didn't. And for that we say THANK YOU." (WBZ-TV)
BREAST CANCER SURVIVOR DONATES 250 BRAS TO THOSE IN NEED
77-year-old Mary Frances Duggan of Vancouver, Washington, beat breast cancer and was so thankful for the medical care she received that she wanted to give back.
So, she called a few friends, asking them to donate bras to the needy.
Mary hoped to get 100 bras -- and was surprised when her friends called other friends, which led to 250 bras being donated.
With the help of her husband of 55 years and her three daughters, Mary ended up delivering the bras to a charity that helps women.
Still thankful about the support she received from the doctors and nurses she met along the way, Mary now is also thankful for the support she received from the community -- and is happy to know her charity efforts are helping those less fortunate. (The Columbian)
DOG SAVES FAMILY HOME FROM GAS LEAK
A dog from Westchester County, New York, is being called a hero after she saved her home -- and family -- from a potentially deadly gas leak.
The dog -- named Sadie -- was running around the neighborhood, barking loudly.
Police received a call about Sadie and showed up to check things out.
When they found her, Sadie led them through several streets -- and finally back to her home.
Once there the officers discovered a gas odor coming from an open basement window. It was a gas leak.
Sadie saved the house -- and potentially her family -- from an explosion. If not for Sadie's heroic action, things could have gotten very dangerous, very quickly. (KGO-TV)
And... because you've read this far.... here's Supreme Court Justice Ruth Bader Ginsburg here to protect your free speech this morning... and a video of a parrot messing with a cat... just because...
Thanks for choosing to #ReadThisFIRST... you should be up to speed for now...
More to follow...
#LoveToby
tk@iheartradio.com