It's a new week, ya'll! Thanks for choosing to #ReadThisFIRST... .
Now, we won't even ATTEMPT to go out-cover the GRAMMY coverage you've already been slammed with today. You've no doubt had alert after alert, message after message... You already know who won, who lost, who got snubbed and that Lady Gaga is the #1 Meme on the Internet of Things this morning...
So... let's get after it as Chris Cuomo on CNN would say...
TODAY IS:
National Make a Friend Day
Satisfied Staying Single Day
Love is in the air…
A new travel app not only helps you fly from city-to-city as smoothly as possible, it also gives you information about fellow travelers at the airport … you know, in case you want to meet up. App in the Air provides users with flight details and information about delays at security checkpoints. And, it also encourages its users to network – and maybe make a love connection. ( AskMen )
Can you guess the most common lie people tell their doctor or dentist? If you said how much you flossed your teeth, you would be right. According to a new survey , 39 percent of respondents say they exaggerate their flossing habits when they go to the dentist. Exercise (27%) and eating habits (25%) are the next biggest lies people tell their doctors, followed by sleep habits (17%) and how much alcohol they drink (12%).
How long does it take for you enter the "comfort zone" when you're in a new relationship? According to a new survey, it takes most couples about seven and a half months. Here are the Top 10 biggest signs you are comfortable in your relationship:
Letting your significant other take care of you when you're sick – 73%
Not wearing make-up – 63%
Crying – 63%
Snoring – 60%
Showering at their place – 59%
Leaving the door open while using the bathroom – 56%
Not shaving – 55%
Being naked around the house – 55%
Sleeping in a hair wrap – 40%
Wearing a retainer to bed – 34%
The survey also explored how long, on average, into the relationship it took for these "firsts" to happen:
Sex -- 4 months and 17 days
Sleep in same bed -- 4 months and 21 days
Shower at the other's place -- 4 months and 29 days
Cry in front of partner -- 5 months and 24 days
Sit in silence without it being awkward -- 5 months and 27 days
Talk about your time of the month -- 6 months and 13 days
Be naked around the house -- 6 months and 18 days
Share a deep secret -- 6 months and 19 days
Let your partner take care/see you when you're sick -- 6 months and 21 days
Use the bathroom with the door open -- 6 months and 24 days
Pass gas in front of partner -- 6 months and 25 days
Talk about marriage/kids -- 7 months and 1 day
Go on vacation together -- 7 months and 7 days
Share a password -- 7 months and 17 days
Share a Netflix/Hulu account -- 7 months and 24 days ( SWNS )\
MEN ARE MORE LIKELY TO BUY VALENTINE'S DAY GIFTS FOR PETS
A new survey has found that men are three times more likely to buy Valentine's Day gifts for their pets than women are.
6 percent of guys who were polled said they are planning to give their dog or cat a present, compared to just two percent of women.
Guys are also more likely to buy themselves a gift, with 8 percent admitting to buying themselves a gift, compared to 5 percent of women. ( AskMen )
TOPIC: Are You a Fight Person … or a Flight Person?
Last week, a trail runner made big news by killing a mountain lion with his bare hands after the big cat attacked him.
If you actually encountered a mountain lion, coyote, bear or other nasty animal in the woods, what would you actually do?
Be honest. Would you try to make a run for it? Just wet yourself and panic? Try and fight back?
In general, are you a fight person – or a flight person?
Do you enjoy arguments, battles and fights? Or, do you shy away from them? Do you think this is something you're born with or something learned?
STUDY SHOCKER: WEED IMPROVES HEALTH OF YOUR LITTLE SWIMMERS
About a year ago, a scientific study concluded that men who smoke weed end up with fewer little swimmers than non-smokers.
Well, there's a brand-new study from Harvard University that discovered the exact opposite – that men who smoke weed are actually more fertile than those who don't blaze up. ( Quartz )
NASA IS WORKING ON ANTI-ASTEROID TECHNOLOGY
Over the past year alone, a number of asteroids have come pretty close – relatively speaking – to slamming into Earth and wiping us all out, including one scientists were calling "The Death Comet."
Well, scientists at NASA are doing something about this and have started working on anti-asteroid technology.
The NASA scientists are teaming up with the European Space Agency for what they're calling the "Double Asteroid Redirect Test." They are actually going to try to knock asteroids out of orbit. You know … to save the Earth from total destruction.
Wish them luck? ( Thrillist )
.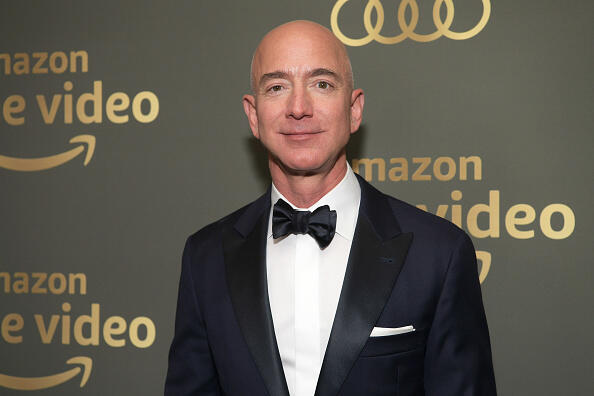 .: getty :.
JEFF BEZOS: The Brother of his MISTRESS leaked the photos to the NATIONAL ENQUIRER!
Jeff Bezos was betrayed by the brother of his mistress!
Multiple sources inside the National Enquirer identified Michael Sanchez as the leaker.
Valentine's Day will be super-awkward for Bezos. Never mind that he once attempted to sext Lauren Sanchez (quote) "I want to smell you, I want to breathe you in. I want to hold you tight."
On Sunday, an attorney for National Enquirer publisher  David Pecker refused to finger the culprit, but offered (quote) "The story came from a reliable source that had given information to the National Enquirer f or seven years prior to this story. It was a source that was well known to both Mr. Bezos and Ms. Sanchez."
The investigative team hired by Bezos concluded its probe. They nabbed the leaker and his motives (quote) "There is no one inside this inquiry process who doesn't believe Michael Sanchez is ground zero." ( The Daily Beast )
And NOW... some GOOD NEWS!
HERO PUPS SAVE OWNER'S LIFE
A Florida woman is alive today after suffering a stroke at her home and she has two Labrador retrievers who can expect a lot of treats and belly rubs.
Maureen Hatcher lives alone with her two dogs, Bella and Sadie. Last month, she suffered a stroke and collapsed. 
As she lay on the floor, unable to move and barely able to speak, the dogs ran over to help. Hatcher recalls, "I remember Sadie coming in and I said … 'Mommy needs help' And then, they were gone."
Hatcher's video doorbell captured both dogs sprinting out of the house and into the street to get help. They came upon her neighbor, Alexandra Naspolini, who could tell there was something wrong.
She followed the dogs back to the house and walked inside to find Hatcher on the floor. She immediately called 911.
A short while later, paramedics arrived and treated her in the ambulance on the way to the hospital. Medics say if they hadn't gotten to her so soon, the stroke could have killed her. They say there's no doubt the dogs saved her life. ( First Coast News )
BASEBALL STAR DONATES CLEATS TO HIGH SCHOOL TEAM
Joey Gallo is one of the biggest stars in Major League Baseball, playing for the Texas Rangers.
But he recently took some time to return to his hometown of Henderson, Nevada, to deliver brand-new cleats to his high school's baseball team.
Every member of the Basic High School Wolves baseball team got a pair of cleats from their hometown hero.
It was an act of kindness that will have the team even more ready to compete this spring. ( Major League Baseball )
PROFESSIONAL CHEF FEEDING THE NEEDY WITH LOTTERY WINNINGS
Roberto Mendoza is a professional chef in North Carolina. And for the past five years, he has put his skills to use by preparing food for those in need, both in North Carolina as well as in the Dominican Republic.
Well, his charity efforts got a big boost recently when he won $250,000 from a scratch-off lottery ticket that his mother convinced him to buy.
He is thrilled to be a winner – and will be using the jackpot to finish a cafeteria he started building on the Caribbean island, so he can continue to help feed 1,500 needy children in the area.
And after not taking a vacation in years, Roberto will also use some of the money to take his family on a little getaway as well. ( Inside Edition )
And... here's what's up with TV TONIGHT!
Monday, February 11th
TALK SHOWS:
Jimmy Fallon has actor  Adam Sandler , Stephen Merchant ( Fighting With My Family ), Big Bird ( Sesame Street ), music by  Metro Boomin f/ Gunna
Stephen Colbert has  John Oliver ( Last Week Tonight ), music by BLACKPINK
Jimmy Kimmel has multi-media host  Steve Harvey , Adam Devine ( Isn't It Romantic ), music by Leon Bridges 
James Corden has  Kelsey Grammer ( Proven Innocent ), Jay Baruchel ( Kindness of Strangers ), music by Alessia Cara
Seth Meyers has  Debra Messing ( Will & Grace ), historian Henry Louis Gates Junior , music by  The Prom
Conan has comedian  Nikki Glaser
Ellen DeGeneres has  Chris Pratt ( Lego Movie 2 ), music by Ella Mai 
Live With Kelly and Ryan has  Trevor Noah ( The Daily Show ), Missy Peregrym ( FBI ), beer expert Garrett Oliver
Watch What Happens: Live has the best of Vanderpump Rules
The View has a Day of Hot Topics
The Talk  has actor Brendan Fraser
PRIMETIME:
The Bachelor  The remaining bachelorettes travel to Vietnam. (ABC)
The Good Doctor (repeat) Shaun draws on his past to help a teen. (ABC)
The Neighborhood Dave convinces Calvin to hold a yard sale, but then has to help him get a valuable object back. (CBS)
Man With a Plan Adam and Andi have a disagreement at the office and must prevent it from becoming a problem at home. (CBS)
Big Brother: Celebrity Edition Celebrities live together in a house outfitted with cameras and microphones recording their every move 24 hours a day. (CBS)
Bull Bull aims to raise reasonable doubt among the jurors when his friend Nathan is tried for his wife's murder. (CBS)
America's Got Talent  The top 12 finalists, including two returning Wild Card acts, perform for the judges. (NBC)
Manifest Another non-passenger comes back from the dead, and Ben, Michaela and Saanvi want to know why. (NBC)
The Resident Conrad abandons his Valentine's Day plans with Nic. (FOX)
The Passage Brad and Amy strategize an escape plan. (FOX)
Arrow Oliver and Felicity are disappointed that William is hiding something from them. (CW)
Black Lightning Lynn works on two of the pod kids in a segregated safe room. (CW)
All listings are subject to change.
AND... because you've read this far... look at younger me with Lady Gaga...