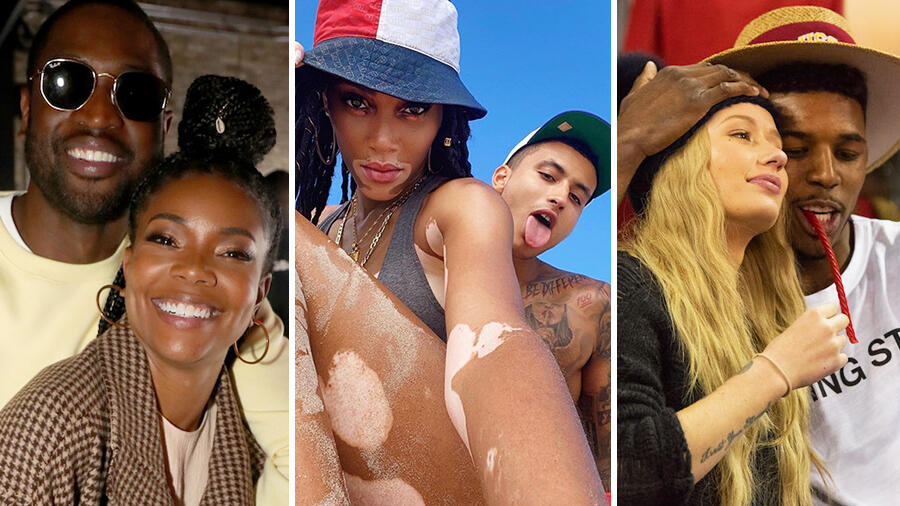 It's no secret that some of Hollywood's most known couples helm from separate worlds. For example, take entertainment and sports figures. From Kendall Jenner and Devin Booker to Lala Vasquez and Carmelo Anthony, there's a lengthy list of stars that have found romance with people from other walks of life. In honor of the kickoff of the NBA season on Thursday (July 30), iHeartRadio is celebrating the newest era in NBA with a look at the more private lives of some of its renowned players.
Gabrielle Union and Dwayne Wade
Gabrielle Union and Dwayne Wade met in 2009. They dated for four years and had a brief split before getting engaged. The couple gave their relationship another shot and on December 21, 2013 the three-time NBA champion proposed. They got married on August 30, 2014 in Miami. Gab and Dwayne have stood the test of time and proven that they are in fact relationship goals.
Vanessa Hudgens and Kyle Kuzma
Kyle Kuzma and Vanessa Hudgens were an item for a quick minute, but the pairing came after the latter's breakup from longtime boyfriend Austin Butler. That said, the two seemed to be casually enjoying each other's company. "She's enjoying his company and it's a great distraction for her right now," a source said in February of her connection with the LA Lakers star. "They talk often and have plans to see each other again, but she doesn't want to date him."
Winnie Harlow and Kyle Kuzma
Fast forward a few months later and it does seem as if Kuzma wants to take things to the next level with Winnie Harlow, or at least that's the way it looks on Instagram. Earlier this month, the former America's Next Top Model star shared a photo of the two holding hands and it's clear that romance is in the air. He later shared photos of the star on his own account and you know what they say about love in 2020. It's not official until it's Instagram official.
Laura Harrier and Klay Thompson
Like many others, Klay Thompson and Laura Harrier couldn't make it out of quarantine together. Thompson and Harrier were romantically linked in 2018, before seemingly calling it quits earlier this year. SportsGossip.com initially shared the news, indicating that the two had unfollowed one another and shots of the couple were no longer visible on Harrier's account. After the news, a TikTok post went viral, with a woman claiming that she and friends spent time with the Warriors shooting guard when he was still in a relationship with Harrier.
Iggy Azalea and Nick Young
Iggy Azalea started dating Nick Young before the release of her album The New Classic. The couple got engaged after dating for a year and broke up the following year. Iggy caught Nick cheating on her with his ex girlfriend. Nick Young most recently played with the Golden State Warriors, then was signed to the Denver Nuggets where he was released twenty days later, he is currently retired.
Kehlani and Kyrie Irving
If you're a fan of either of these two, you already know about their tumultuous history together. While they had been hit with plenty of cheating rumors, Irving went on to defend Kehlani even after they had split up. However, the singer didn't stay quiet either and declared that she did not cheat on Irving. "No one was cheated on and I'm not a bad person..." she wrote in a statement to acknowledge her attempted suicide.
Kendall Jenner and Devin Booker
Kendall Jenner and Phoenix Suns' Devin Booker are the talk of the town as fans continue to search for clues on Instagram that prove they're still seeing one another. Back in June, a source told Us Weekly that the two were hooking up "but they're not serious." Either way, it's crystal clear that the model and NBA player are enjoying some road trips together. After a couple of outings this past spring, as well as a Fourth of July trip, the pair still appear to be spending time with one another. Earlier this month, the two shared almost identical photos on Instagram of what appeared to be Arizona mountains within days of each other.
Jordyn Woods and Devin Booker
Speaking of Devin Booker, the NBA player has also been romantically linked to an ex-Kardashian/Jenner associate: Jordyn Woods. Before the romantic pursuits got all tangled up, multiple sources revealed that Woods and Booker were definitely an item. In fact, the two, as well as Jenner and her then-boyfriend Ben Simmons, all went on a number of double dates in 2018. Booker and Woods "quietly split" before the latter's make-out session with Tristan Thompson though.
Kendall Jenner and Blake Griffin
Blake Griffin ended his relationship with former fiancé, Brynn Cameron, and started seeing Kendall Jenner soon after. They dated from August 2017 up to early 2018. Griffin was traded from the LA Clippers to the Detroit Pistons around the time his ex-fiancé filed a child support lawsuit against Griffin. The trade came as a relief for Kendall considering it was an easy out of the relationship and the drama.
Tinashe and Ben Simmons
Ben Simmons and Tinashe dated for a couple of months in 2018. Sources say the 76er developed a "close friendship" with Kendall Jenner while he was still going out with Tinashe.
Kendall Jenner and Ben Simmons
Ben Simmons and Kendall Jenner were on and off for a year before splitting up officially in May of 2019. On her Zaza podcast, Jenner spoke about how easily she can cool off on people she dates, especially if they've done something to turn her off from the relationship.
Kim Kardashian and Kris Humphries
Kris Humphries popped the big question six months into dating Kim Kardashian. After a 90 day engagement they got married, then filed for divorce 72 days later. The couple proved that you can date, marry, and file for divorce all within one year.
Khloe Kardashian and Lamar Odom
Khloe Kardashian and Lamar Odom got married after dating for three weeks. The couple wanted to get hitched before the NBA season started. Following the wedding, they landed their very own reality tv show. They also made the big move to Dallas, Texas when Lamar signed with the Mavericks. Things got rocky after their return to Los Angeles. Lamar struggled with addiction and was rumored to have cheated on Khloe. Khloe officially filed for divorce on December 13, 2013.
Khloe Kardashian and Tristan Thompson
Tristan Thompson and Khloe Kardashian met through a mutual friend in 2016. Although they entertained the idea of having a baby while dating, the couple did not plan on getting married any time soon. In 2017, news of Khloe's pregnancy got out. Two weeks after the exciting news, it was rumored that TMZ had footage of the Cleveland Cavalier kissing two other women. Messy! Before Khloe gave birth to baby True, multiple videos of Tristan appearing to cheat were released. Regardless of the drama, Khloe wanted Tristan to be there during the delivery. After continuing to see each other on and off, the couple allegedly split in February of 2019. Just when you thought it couldn't get messier, Thompson reportedly kissed Kylie Jenner's best friend Jordyn Woods during a party at his home.
Eva Longoria and Tony Parker
Eva Longoria and Tony Parker met in 2004 after a Spurs game. Despite splitting up for a brief moment, Parker popped the big question in 2006 and they got married in Paris. Although rumors of Parker cheating later surfaced, he denied even knowing the woman. In 2010 Longoria filed for divorce citing irreconcilable differences. Tony began dating someone else within the same year.
Teyana Taylor and Iman Shumpert
Iman Shumpert was rejected by Teyana Taylor a number of times when they met due to Teyana being in a relationship at the time. When Teyana found out no one was taking care of Iman during the time of his injury, she stepped in and they fell in love. They had baby Junie before getting married on October 1, 2016. In 2020, Taylor revealed her baby bump at the end of the music video for "Wake Up Love". This will be the couple's second child together.
Vanessa Williams and Rick Fox
Marriage doesn't always work for the cross-genre couples. Just ask Vanessa Williams and Rick Fox. The pair wed in 1999 during a getaway in the Caribbean, before having another ceremony in New York City that same year. They'd go on to welcome a daughter, Sasha Gabriella Fox, into the mix. Still, their romance only lasted so long and the two were divorced five years later. Interestingly enough, the former Lakers player reportedly filed the documents and made the announcement without even speaking to Williams. Thankfully, the two eventually made their way to good terms, with Fox even guest-starring as her on-screen romance during her stint on Ugly Betty.
Lala Vasquez and Carmelo Anthony
These two appeared to be a match made in heaven as their romance was chronicled on Lala's multiple VH1 series. Unfortunately, their dynamic just wasn't enough to keep them afloat after cheating rumors hit in 2017. In fact, Carmelo was even accused of fathering a child with another woman. The two split and reconciled in late 2018. While they're reportedly no longer an item, they've been quarantined together to co-parent their son, Kiyan.
Ciara and Amar'e Stoudemire
Before starting her marriage and family with Seattle Seahawks quarterback Russell Wilson, Ciara briefly dated Miami Heat power forward Amar'e Stoudemire. During their 2011 romance, the pair kept things on the downlow, but it fizzled out quick. Just a year later, he went on to marry the mother of his four children, Alexis Welch.
Rihanna and J.R. Smith
Rihanna has had her share of public romances, but she reportedly "hooked up" up with J.R. Smith while he was still playing for the New York Knicks back in 2012. They'd go on to show some PDA at nightclubs in New York and Miami, but called it quits later that year.
Keri Hilson and Serge Ibaka
Keri Hilson has spent some time with professional athletes. After dating Toronto Raptors' Serge Ibaka from 2012 to 2016, the R&B singer went back on the market, only to get romantic with NFL wide receiver Ricardo Lockette. The pair split in 2017.
Photos: Getty Images, Instagram